The East Asia Institute at Tokyo Christian University
Come join us next fall!!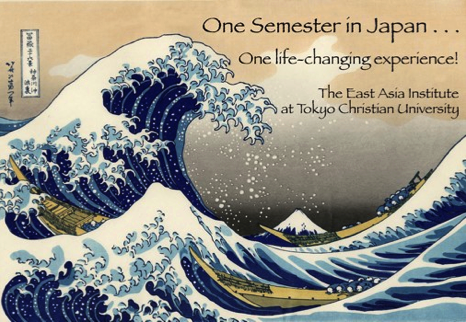 The East Asia Institute at Tokyo Christian University is a one-semester program that offers you the opportunity to
Study about Japan and the Far East while experiencing it!
Learn and speak Japanese every day both on and off-campus!
Experience dorm life with Japanese, Korean, Chinese, and other international students from around the world!
Worship and serve in local Japanese, Korean-speaking, Chinese-speaking, and/or English-speaking churches!
Join in field trips that make your classroom studies come alive!
Live and study in Japan at a fraction of the cost of comparable programs!!
2022 Fall Program: August 22 – December 9
Thank you for your interest in EAI! Applications for the 2022 Fall Program are now available to download from here.
Please contact the TCU Admissions Office (eai@tci.ac.jp) if you have any questions about the East Asia Institute.
Visit here for information about our four-year program.