The East Asia Institute at Tokyo Christian University
Come join us next fall!!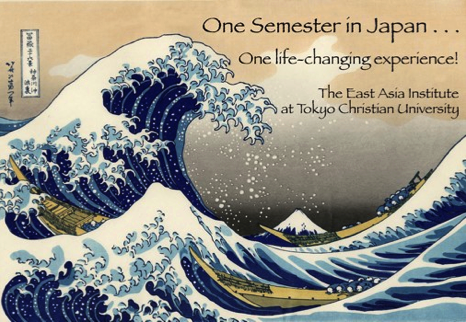 The East Asia Institute at Tokyo Christian University is a one-semester program that offers you the opportunity to
Study about Japan and the Far East while experiencing it!
Learn and speak Japanese every day both on and off-campus!
Experience dorm life with Japanese, Korean, Chinese, and other international students from around the world!
Worship and serve in local Japanese, Korean-speaking, Chinese-speaking, and/or English-speaking churches!
Join in field trips that make your classroom studies come alive!
Live and study in Japan at a fraction of the cost of comparable programs!!
2022 Fall Program: August 22 – December 9
Thank you for your interest in EAI! Unfortunately, the application deadline for the 2022 Fall is now closed.
We hope that you will still consider applying to the EAI program for 2023!
Please contact the TCU Admissions Office (eai@tci.ac.jp) if you have any questions about the East Asia Institute.
Visit here for information about our four-year program.