Theology of Everyday Life: Let's Clear up the Fog!
July 27, 2022
Wouldn't you love to learn and think – in Japanese! – about the Christian life in general, and about church life in particular?
You would, right?
If you can understand everyday, conversational Japanese, then we invite you to sign up for a series of on-demand lectures this fall called, "Theology of Everyday Life: Let's Clear up the Fog!" The instructor will be Dr. Naoki Okamura.
Course Description
In this course, we'll take a fresh theological look at some things that tend to be unclear for a lot of people in their church experiences and in their walks of faith. We'll think about things like the meaning of preaching, the role of music, ministry responsibilities, the nature of fellowship, pastoral duties, relationships with neighbors, difficulties in family and youth evangelism, and human emotions such as depression and anxiety, which are hard to share with others.
Course Schedule and Contents
When: Fall 2022 (On Demand)
Application Deadline: September 5, 2022 (Mon)
Session 1 – Fogginess Concerning Worship
Session 2 – Fogginess Concerning the Church
Session 3 – Fogginess Concerning the Life of Faith
Session 4 – Fogginess Concerning Emotions
About Dr. Naoki Okamura
Professor at Tokyo Christian University Graduate School. Born in Yokosuka City. Earned Ph.D. from Claremont School of Theology after studying at Trinity Evangelical Divinity School. Pastored a Japanese church for 12 years while teaching at Azusa Pacific University. Courses at TCU include Christianity and Education, Christianity and Psychology, and Theology and Practice of Youth Ministry.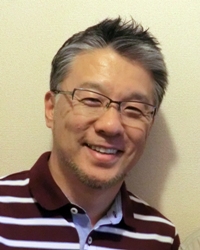 Cost
Individual Auditors (General): ¥5,000 (covers all 4 lectures)
Individual Auditors (Donor): ¥3,500 (covers all 4 lectures)
Group Auditing (3 or more on 1 device): ¥4,000 per person (covers all 4 lectures)
Registration
You can register here, using this form .
See 2022年度 秋 どこでもTCUエクステンション for more information in Japanese.
About Doko Demo TCU Extension
Q: What does "Doko Demo" mean?
A: "Doko Demo" means "anywhere," or, in this case, "from anywhere." That is, you can take this and other "Doko Demo TCU (Extension)" courses online from anywhere in the world.
Q: What is "group auditing"?
A: "Group auditing" is when three or more members of a church, family, circle of friends, etc., join a class together on one device. One member of the group will represent the group in submitting an application and making payment.
Q: I can understand conversational Japanese. Can I take the course even if I don't read and write much Japanese at all?
A: Yes! Our "extension" courses do not have required reading and writing assignments – these courses are not for academic credit – so you wouldn't have to worry about that. However, note that you may need to get someone to help you sign up and process some basic information, such as emails with information and links for joining the sessions. But you can do a lot of that with a translation service such as DeepL.com .
Q: What are "on-demand lectures"?
A: On-demand lectures are video lectures with supporting materials prepared in advance and distributed via Google Drive. Participants can watch and learn from the lecture videos at times convenient for them.
Contact
Tokyo Christian University
Academic Affairs Office, Doko Demo TCU Extension Officer
3–301–5 Uchino
Inzai City, Chiba
Japan 270–1347
Tel: 0476-46-1131
Email: awextension@tci.ac.jp
* * *