The Ministry of Sharing Joy: Evangelism for Pastors and Congregations
July 17, 2022
Would you like to learn how an experienced Japanese pastor approaches evangelism in Japan?
Yes?
Then we invite you to sign up for a series of real-time online lectures this fall called, "The Ministry of Sharing Joy: Evangelism for Pastors and Congregations." The instructor will be Rev. Masaru Asaoka.
There's just one catch. The course will be offered in Japanese only. But as long as you can understand spoken Japanese, you should be able to thoroughly enjoy it even if you don't read and write much Japanese at all. (See additional note on this below.)
Course Description
"Evangelism" . . . the precious work of sharing the way of the Lord Jesus, who is called "the Way, the Truth, and the Life." We'll think together about this precious ministry that has been entrusted to us.
Course Schedule and Contents
When: Eight Fridays this Fall from 7 to 8 pm (Japan Time)
Application Deadline: September 15, 2022 (Thurs)
Session 1 – What is Evangelism? (Sept 30)
Session 2 – The Gospel as Joy (Oct 7)
Session 3 – What is the gospel we share? (Oct 14)
Session 4 – Who shares the gospel? (Oct 28)
Session 5 – How do we share the gospel? (Nov 11)
Session 6 – Why do we share the gospel? (Nov 18)
Session 7 – When do we share the gospel? (Nov 25)
Session 8 – Once again, what is evangelism? (Dec 2)
About Rev. Masaru Asaoka
Born in 1968. Graduated from Tokyo Christian Junior College and Kobe Reformed Theological Seminary. Chairperson of the Board of Directors and Chancellor of Tokyo Christian Institute. Teaches Hermeneutics and Symbolics (Creedal Studies) at Tokyo Christian University. Ordained minister of the Japan Alliance Christ Church (Dōmei). Author of The Joy of Living in the Church (Kyobunkwan), Joyful News (Inochi no Kotobasha), etc.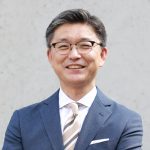 Cost
Individual Auditors (General): ¥10,000 (covers all 8 lectures)
Individual Auditors (Donor): ¥7,000 (covers all 8 lectures)
Group Auditing (3 or more on 1 device): ¥8,000 per person (covers all 8 lectures)
Registration
You can register here, using this form .
See 2022年度 秋 どこでもTCUエクステンション for more information in Japanese.
About Doko Demo TCU Extension
Q: What does "Doko Demo" mean?
A: "Doko Demo" means "anywhere," or, in this case, "from anywhere." That is, you can take this and other "Doko Demo TCU (Extension)" courses online from anywhere in the world.
Q: What is "group auditing"?
A: "Group auditing" is when three or more members of a church, family, circle of friends, etc., join a class together on one device. One member of the group will represent the group in submitting an application and making payment.
Q: I can understand conversational Japanese. Can I take the course even if I don't read and write much Japanese at all?
A: Yes! Our "extension" courses do not have required reading and writing assignments – these courses are not for academic credit – so you wouldn't have to worry about that. However, note that you may need to get someone to help you sign up and process some basic information, such as emails with information and links for joining the sessions. But you can do a lot of that with a translation service such as DeepL.com .
Contact
Tokyo Christian University
Academic Affairs Office, Doko Demo TCU Extension Officer
3–301–5 Uchino
Inzai City, Chiba
Japan 270–1347
Tel: 0476-46-1131
Email: awextension@tci.ac.jp
* * *