Global Connections 2021 [December 4th]
November 12, 2021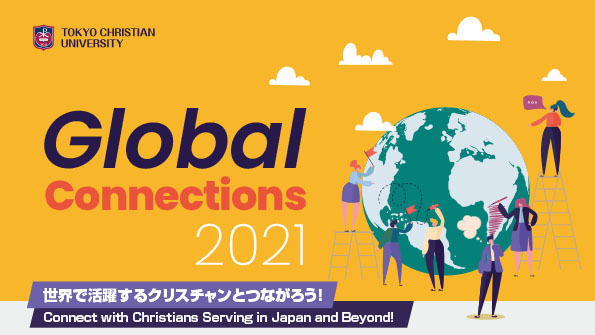 <Global Connections 5: Toward the Realization of a Society Where All Children Can Enjoy Life: My Life as an Elementary School Teacher>
Special Guests: Maho Hattori
Date and Time: December 4 (Sat) 2:00 PM ~ 3:30 PM
This online event is free. This event will be in Japanese.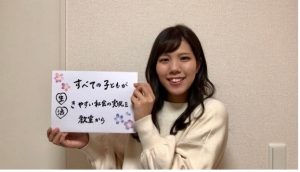 Maho Hattori was born in Aichi Prefecture to a Christian family. Her grandfather was a pastor, and her father is pastor. When she was in elementary school, she announced that she wanted to be a missionary, but by the time she reached junior high school, she felt ashamed that she was in the minority in her belief in God. She was living a self-centered life as a high school student when God spoke to her and stirred in her a desire to learn about the Bible from a broader perspective. She then entered Tokyo Christian University, where she majored in International Christian Studies. At TCU, she had many opportunities to look at cultural and social issues in various countries that she visited. After graduation, she backpacked around Southeast Asia, experiencing the local life with her five senses. After returning to Japan, she earned her certification as a Japanese language teacher. She was about to be dispatched by the Japan Foundation to work as a Japanese language teaching assistant at a national school in Indonesia when the new coronavirus pandemic caused it to be postponed. She then began searching for her next career path with a vision to work long-term in various Asian countries in the field of education. She came across Teach For Japan (TFJ), a certified NPO that operates a program throughout Japan to place uniquely trained personnel as teachers in public schools for two years. She is currently working at a public elementary school in Nagasaki Prefecture as a TFJ fellow. She struggles every day to increase the number of children who can love themselves and care for others, no matter what kind of family environment they have been born into.
<About Global Connections 2021>
Eight online events for globally minded Christians to connect and learn from one another. At each event, TCU faculty and students will interview alumni and other special guests who think globally while acting locally.
Each of these events are free, and we welcome you to join from anywhere in the world. Just register for an event , and we'll send you the link to join us by Zoom.
Come connect with us!
<Upcoming Global Connections>
Jan 15 (Sat) 2:00 PM ~
Feb 5 (Sat) 2:00 PM ~
We will update this page with new information and links throughout the year. Bookmark this page and be sure to visit it again soon!
<How to register>
Fill in the registration form below, or at this link .
Then check your email for the Zoom invitation.