Fall Regular Admission Period (11/5/22–1/18/23)
What's happening?
Our Fall Regular Admission period has begun! Ready to start? Click here!
The Fall Regular Admission application period is from today (Nov 5, 2022) to Jan 18, 2023.
You can get started in just minutes here, and then work on it little by little up until mid-January.
(Are you interested in trying to make the Fall Early deadline? Start here.)
Who should apply during the Fall Regular Admission period?
Eligible applicants from anywhere in the world who are not applying during the Fall Early Admission period are encouraged to apply. (See our Application Guide concerning admission eligibility.)
International students who wish to apply for two of our scholarships – the "Noah Scholarship" or the "Scholarship for Students from Countries Qualifying for the Japanese Government's Official Development Assistance (ODA)" – should not miss this application period. (See the Application Guide and our Financial Aid page for more information about scholarships.
Are there other admissions periods after this one?
Yes. After this period, there will be one more admission period for overseas applicants, and three more for citizens and residents of Japan (they have a couple of more periods because they do not need to apply for student visas).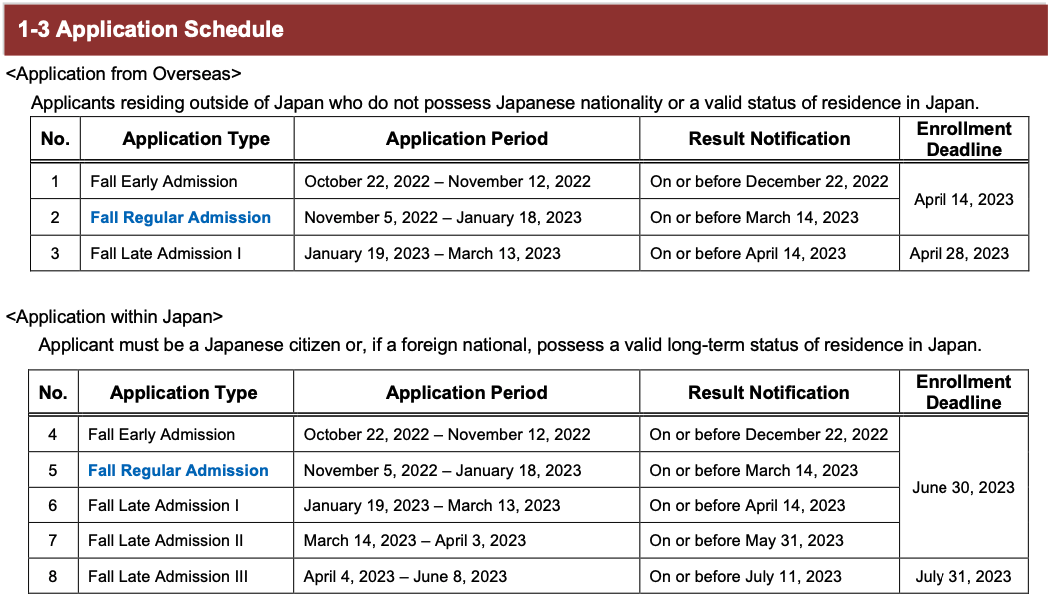 Some applicants need to wait a few more months before they apply. For instance, they may be waiting to take a test like the GED, or maybe they'd like to wait for an updated academic transcript demonstrating progress during their fall term. That's fine!
If that's you, be sure to make a note of this:
If you live overseas, the latest you can apply for Fall of 2023 is March 13, 2023.
If you are a Japanese citizen or resident of Japan, you have until June 8, 2023.
Can I start an application at any time?
Yes! Whatever application period you choose, you can start an application at any time.
To start, go to our online application page and click on the "Register" link beneath the Login bar.
What if I'm interested but not yet ready to start an application?
We understand. In that case, though, we think it's still important to connect.
The easiest way to do that is to fill out our simple "Step 1" form here.
You can also email us directly.
If you'd simply like to hear from us now and then, you can also subscribe to our blog, "Christian College Life in Japan," through this form.
The important thing is to take a step today!