ASIAN CHRISTIAN THEOLOGICAL STUDIES FOR ENGLISH SPEAKERS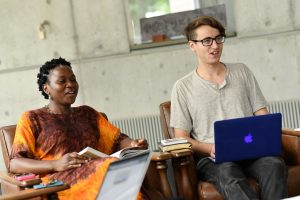 Our 4-year ACTS-ES program leads to a bachelor's degree, which integrates the liberal arts with Bible and theology, academic preparation with practical experience, the English language with Japanese studies, and the world's cultures with Japan and Asia.
ACTS-ES prepares serious Christians for effective living as God's global servants, either as lay people or as clergy.
Have we piqued your interest? Our curriculum is located here; click to learn more about required courses and electives for ACTS-ES students.
Degree Policy
Undergraduate School of Theology
Tokyo Christian University grants the Bachelor of Arts in Theology degree to those who obtain the following abilities, including knowledge and abilities particular to each major, and who complete the credits prescribed in the curriculum.
Those who well understand Christian theology, and who acquire the will and abilities for practicing its mission in both church and society.
Those who are capable of analyzing and integrating various issues critically and constructively from a Christian worldview perspective, a theological perspective, and the perspective of their specific discipline, and are able to present their ideas to others persuasively.
Those who can sense various pains in the world, and who can collaborate with others while understanding their different perspectives.
<Theological Studies Department>
Those who understand the Old and New Testaments and Christian traditions deeply, and who can reflect on their contemporary significance.
Those who acquire the ability to exercise theologically-informed leadership in church and society theological.
Those within the Church Ministry Program who acquire practical abilities based on a wide range of theological knowledge. Those within the Theological Research Program who acquire deep knowledge and insights in the field of theological studies as it aligns with their academic interests.